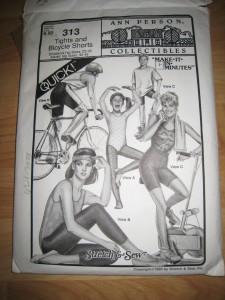 Making biking shorts can be a rewarding project. If you have a serger, a machine that does a zigzag stitch, and basic sewing skills, you should find these easy enough. If you do not have a serger, do not despair as long as your machine has some zigzag options. If you need a reference, the Singer books on active wear, sergers or stretch fabrics are all very good.  Unfortunately, many patterns for cycling gear have been discontinued. You may find them on eBay, Esty or other venues for older patterns. Jalie has made 2216, their multisize pattern for shorts and jerseys, available for download for a small fee. Other patterns to look for are Stretch & Sew 313 and 312, Kwik Sew 1727 and 1233, and Green Pepper 404 and 409. Sometimes retailers will have old stock for sale.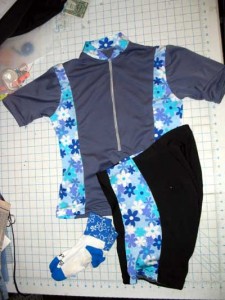 Lycra Notes: Different lycras have different amounts of stretch. Swim lycra is thinner, and is less supportive, plus the quality will  vary depending on where you buy it. Swim prints are fun for a panel insert. Supplex lycra has a lot of give, and is  cool to wear in the summer. 9 oz,  called Beefy or Cordura lycra, is excellent, but heavier/warmer. It is very supportive, and very durable. You may need to go up a size in your patterns if you use this lycra as it is more dense and less stretchy than other types of lycra. There are some two way only lycras out there (rashel knits) These only stretch lengthwise; DO NOT BUY this kind of knit. Be sure the lycra is 4-way stretch.  If your local store does not have a good selection of lycra, check the Sources page.
Sewing notes: For seams, a serger with wooly nylon is best. You can experiment with flat-lock seams if you want, but I have not had good success with the typical 2/3 thread flat lock options. If you have a cover stitch machine, you can play with seaming it from both the RS and WS to mimic a top loop cover stitch. If you only have a regular machine for your seams, look and see if your machine does this stitch: __//__// ; it is an excellent stitch for seaming lycra.
Chamois/Pads: I used to make them from scratch but forget that. AeroTech Designs has a fabulous selection of chamois to choose from to put into your shorts. The pads come with installation instructions.
Cut: Cut the pattern according to directions. You may want to add extra length to the legs, or some additional seam allowance if you think you might want to make adjustments to the fit. Mark the pieces carefully as it is easy to get the panels mixed up. Because of narrow seam allowances, use a pencil to mark instead of snips. If you want to put in a print accent, replace one of the side panels. Do not put on the elastic at the waist or legs, or put in the chamois yet.
Fit: Once you have the shell of the short made, you can tweak the fit. I have a really small waist, so I always take it in from the hips on up. You can also make the legs longer or shorter, or lower the waist. Do not forget that you will fold over the waist and the legs 1″ when you add the elastic.
Installation of waist and gripper elastics is  covered in Lycra bike shorts Part 2
Note: This is an updated version of an article that used to exist on the original website