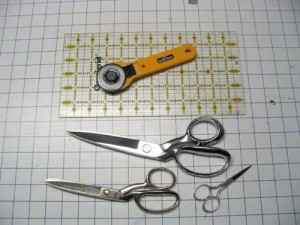 Cutting tools: At the top you see an "Olfa" brand rotary cutter and a clear ruler made especially for rotary cutters. This is like a rolling razor, excellent for accurate cutting. Use a special cutting mat underneath it; a table-sized mat is pictured here. Right below the roller are 10″ and 8″ dressmaker shears. The big ones are for heavy fabrics, the smaller ones are for general use. I also like the tiny embroidery scissors for precision snipping.
I cannot emphasize enough the importance of keeping these sharp and using them for fabric only: no paper, food, metal, cardboard, tape, or anything else. Keep your shears under lock and key if you have to. A good-quality shear will keep its edge much longer and cut much better than the $3.99 pairs from the office supply..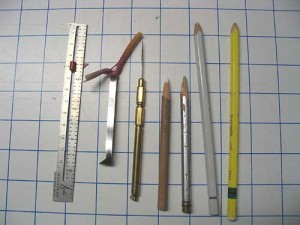 My favorite little tools: From left to right we have a 6″ adjustable seam gauge, flat tweezers, a sewing awl, and various marking pencils. The seam gauge, when held in the hand as you sew a hem, is very handy to make sure your fold is even. I use the tweezers for pulling out threads when I have to rip something out. The sewing awl is a great little pokey thing; you can use it to position things very close to the presser foot where you wouldn't want your fingers. Get marking pencils at the art supply. They are white charcoal, Berol Verithin, Faber-Castell, and Stabilo — excellent for use on coated fabrics. If a pencil isn't marking well, lick the end of it.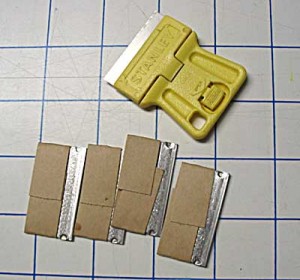 Tool of destruction!! Forget a seam ripper: use a single-edge razor, very carefully. Work away from yourself. I find it works much better and destroys less fabric than a seam ripper does. Also, because they are so cheap (100 for $6), you won't feel guilty about getting a fresh one out of the box. A holder costs 99 cents at Home Depot.