Sergers
I have the luxury of two sergers. Sergers are a wonderful tool for working with knits and finishing fabrics.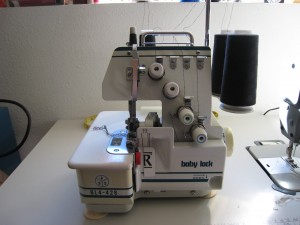 This Babylock may qualify as an antique. It certainly is of the first generation of sergers that came out for home use. I purchased it in 1987 and it still going strong. I've probably used it on hundreds of fleece items at this point. It is a 2/3/4 serger in that it will do 2-thread rolled hem, and both a 3- and 4-thread stretch seam/edge finish.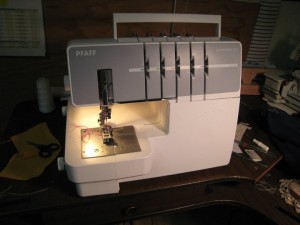 This is my Pfaff Coverlock that does several varieties of cover stitch hemming, and this is what a coverstitch hem looks like:
What is a cover stitch? It hems and finishes all at once. This machine has been invaluable for professional looking finishes on stretch items, softshells, fleece and more. This serger  also does everything the Babylock does, but I keep it set up just for coverstitching. I don't use this machine tons, but I am glad I have it for the results it can produce.
Part 3 coming soon!